Upcoming Events
Waihi's Warm Up Party For Beach Hop
21 March is Day One of Beach Hop. Waihi hosts this day and likes to turn on a fun day for car enthusiasts and all visitors and locals with a variety of things to see and enjoy.
www.waihi.org.nz/events/waihi-s-warm-up-party-for-beach-hop
The Nugget Multisport Festival
Waihi and Waihi Beach are the impressive settings for the Nugget Multisport Festival. A mix of road cycling, kayaking, mountainbiking and running, it's a great event that attracts more competitors every year.
thenugget.co.nz
ECHO Walking Festival
The dates run from April 7 to April 22. There are some interesting new walks. List of walks for 2018 is on the website.
www.echowalkfest.org.nz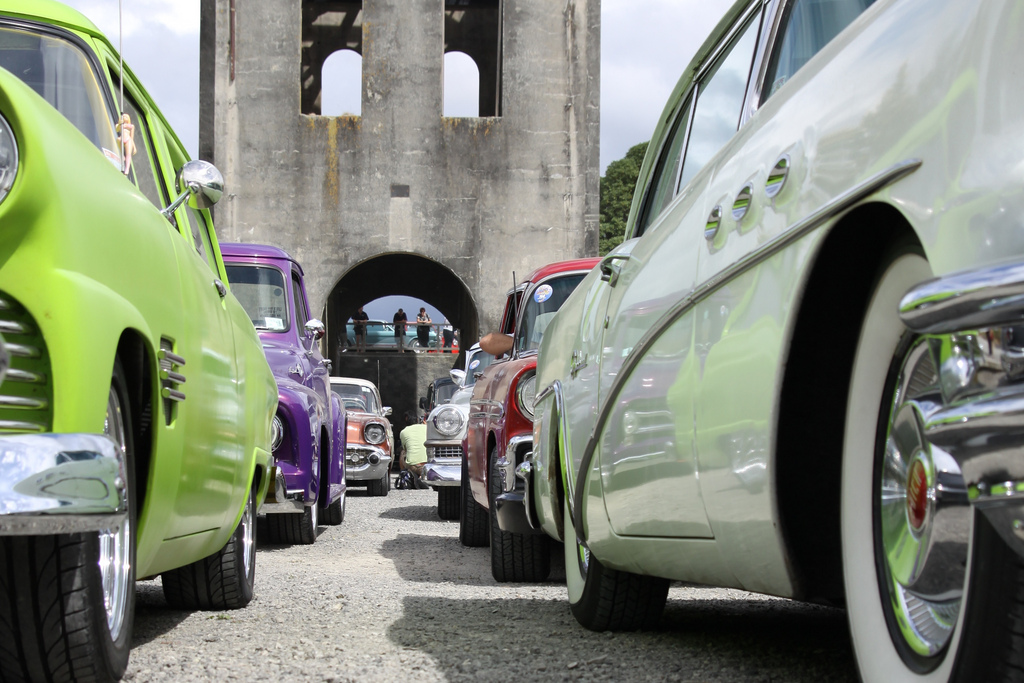 Activities
There's plenty to do during your stay in Waihi:
Karangahake Gorge
Whether it's biking, walking or swimming in the summer, the gorge is a real gem. Located between Waihi and Paeroa, it can be accessed either by car or the Hauraki Rail Trail at the from the Goldfields Railway Station in Wahi.
Waihi Martha Mine Pit Rim Walk
You can start the walkway near the Waihi Information Centre on Seddon Street. This is just a short walk from Trailblazer Studios. The walkway is a wide gravel path with sections of bush and great views over the pit. There is a short section that wil take you along a concrete footpath, then back onto the main walkway. Interpretative signs give interesting facts about Martha Mine.
Goldfields Railway
A great trip for all ages, the Goldfeilds Railway runs a heritage train between Waihi and Waikino at the eastern end of the Karangahake Gorge. The train runs several times a day and transport bikes. The Waihi portion of the Hauraki Rail Trail starts at the station and it's only a short walk or cycle to the trail from the Wakino station.
Waihi Gold Discovery Centre and Goldmine Tours
The Gold Discovery Centre provides an interactive environment for all ages to learn about gold and the gold mining process from the old to the new methods. You can also book a tour of the working goldmine.
Hauraki Rail Trail
The Waihi to Paeroa section of the Hauraki Rail Trail travels through the spectacular Karangahake Gorge. As you travel along the wide gravel cycle-way following the Ohinemuri River, you can see historic mining relics and views of bush clad mountains. You can also travel through a 1km railway tunnel (which can be bypassed if you prefer).
The track is suitable for cyclists, runners or walkers and is an easy grade.
Waihi Arts Centre and Museum
The museum has a range of displays, particularly items relating to the underground mining history of the area. By 1905 Waihi not only possessed the most productive gold mine in New Zealand, but was the largest gold mining town in the country and the third largest inland town in New Zealand.
As well as the museum, the gallery hosts regular exhibitions of local and visiting arts and craft.
Gilmour Park
Just a few hundred metres down the road from Trailblazer studios, you can find Gilmour Park. It has a small lake which has a very good concrete path looping around it. The path is suitable for wheelchairs or prams in all weather. There is also a children's playground which is fully fenced, public toilets and good parking
Waihi Gold Course
The course is situated amongst beautiful lush green surroundings, overlooking the Waihi Township and surrounding farm land. It's expertly maintained and managed and will be a challenge whatever your skill level.